Arrange a store in an elegant and sustainable way
At Quark we have two passions: storage and modular design. Well, maybe we have a third passion: making furniture. This is another story and I suggest you move on to the question of the day. How can you design a store in an elegant way?
Many customers who contact us about the layout of their store. They therefore need simple and effective storage. The most frequently asked questions are:
can the Pegboard support heavy loads?
Can I put shoes on a Pegboard?
Can you use a pegboard to fix clothes?
Do you have accessories to showcase my products on a Pegboard ?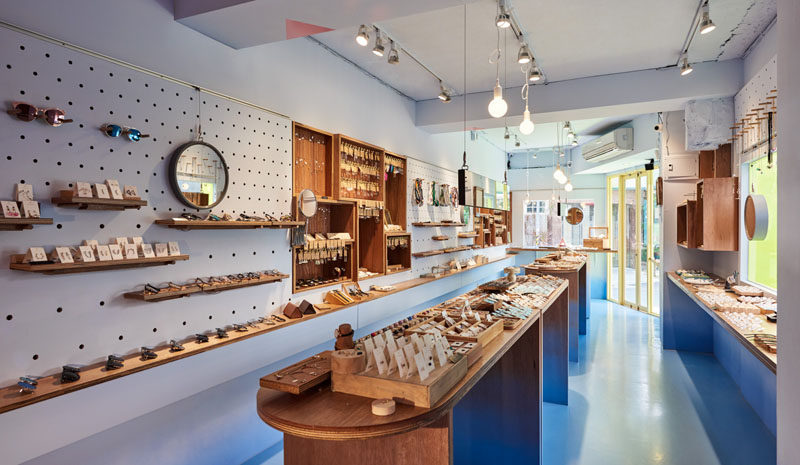 The History of the Pegboard
If we look back a little, history teaches us that the Pegboard is a product invented to store. It is then a product that was created in 1962 in the United States to organize and store stores. The ultimate goal of the Pegboard is to simplify the daily life of your teams in your store. It is therefore the ideal solution to fit out a store in an elegant way. Each store has its constraints depending on its field of activity, the seasons of the year and the size of the products in stock. You must therefore constantly rethink the organization of your store.
Design a store in an elegant way with the Pegboard
The Pegboard then becomes an effective way to dress up your shop. You can layout a store in a stylish way and create a solution of evolving presentation. The objective that comes up most often is adaptability. You are looking for a solution that can sadapt to the size of your products in seconds. That's why we offer modular storage solutions.
A Pegboard is a wall shelf. You can put 20 Kg on a 48 x 48 cm Pegboard. So you no longer have to worry about how much payload you can attach to your Pegboards. It is all the more a resistant product, made of work plywood or Valchromat for the colored versions. These woods therefore offer some of the best mechanical properties on the market. This is also one of the reasons that led us to select them for our Pegboard range.
The Pegboard Quark at our customers
Finally, I invite you to discover the Maif Social Club and its Pegboard system to arrange their store. The goal is to create a striking solution that is pleasing to the eye. The perforated panels make it possible to present numerous partner brands. It is the ideal solution to give space to each of the companies featured.
Designing a mobile shop
At
Quark
we love crazy projects. I now present to you
the traveler
created by
Hors Pistes Design.
This is a studio based in Chamonix. The project was initiated by the
Métropole de Lyon
as part of mediation around compost and sorting. The wanderer is therefore an object made from a compost bin and Quark Pegboards. It is therefore natural that the team chose
valchromat
. So you will understand, this material has the advantage of being water resistant. In conclusion, it's a wise choice for an object that will be
regularly exposed to water
or humidity.
Another atmosphere at
Coco Friendly
in Lille. This is a women's clothing boutique with a commitment to ethical fashion. The owner wanted to optimize and
design a store in an elegant way
. We are very happy with this collaboration. Juliette selected 4
Pegboards in 96 x 48 cm
to equip a space above a niche dedicated to backpacks. I let you discover the result here 👇. The double advantage of the Pegboard is
to dress up the space
while offering a
solution that will easily adapt
to all future products that will arrive in the store.
Decorating a store with a rainbow
You may have seen the main image of this post? This time it's a giant pegboard in the shape of a rainbow. The Pegboard is an object that can take many forms. So if you want to create something unique we will be happy to accompany you. For example the rainbow in Pegboard of Quark measures 3 meters by 3 meters. This giant Pegboard is made up of 36 different pieces of wood to create its arcuate shape. I suggest you discover the manufacturing video here:
If you want to
design a store in an elegant way
, we will be happy to accompany you! At Quark we respond quickly. Our strength is support. We can
co-construct
with you
your project and thus imagine
a layout that reflects your image.
The ideal is to create with you the most relevant configuration to meet your needs.
Thank you for reading and do not hesitate to
contact us
for a quote request:
via our form
by email
or by phone.
See you soon
The Quark Team